I was listening to the latest episode of ATP and they talked a bit about photo solutions they are using and wether or not it's a good idea to switch to Photos for Mac. None of them mentioned Synology Photo Station, even though they all own Synology NAS products.
Because I couldn't find a clear list like this anywhere else, I want to list out, here, the features of Synology's Photo Station software.
Photo management is the topic that just won't die. It's just not easy and simple yet, there are so many little worries and concerns that the knowledgable geeks have with every solution out there. I believe Synology offers a photo solution that has more on the positive side of the balance than anyone else.
Mobile Apps
Having good apps is both the minimum bar of functionality, and the most amazing aspect of the Synology software ecosystem. So many consumer electronics companies try to provide a mobile app to interface, and so many of them do it badly. But, the DS Photo+ app is really quite good.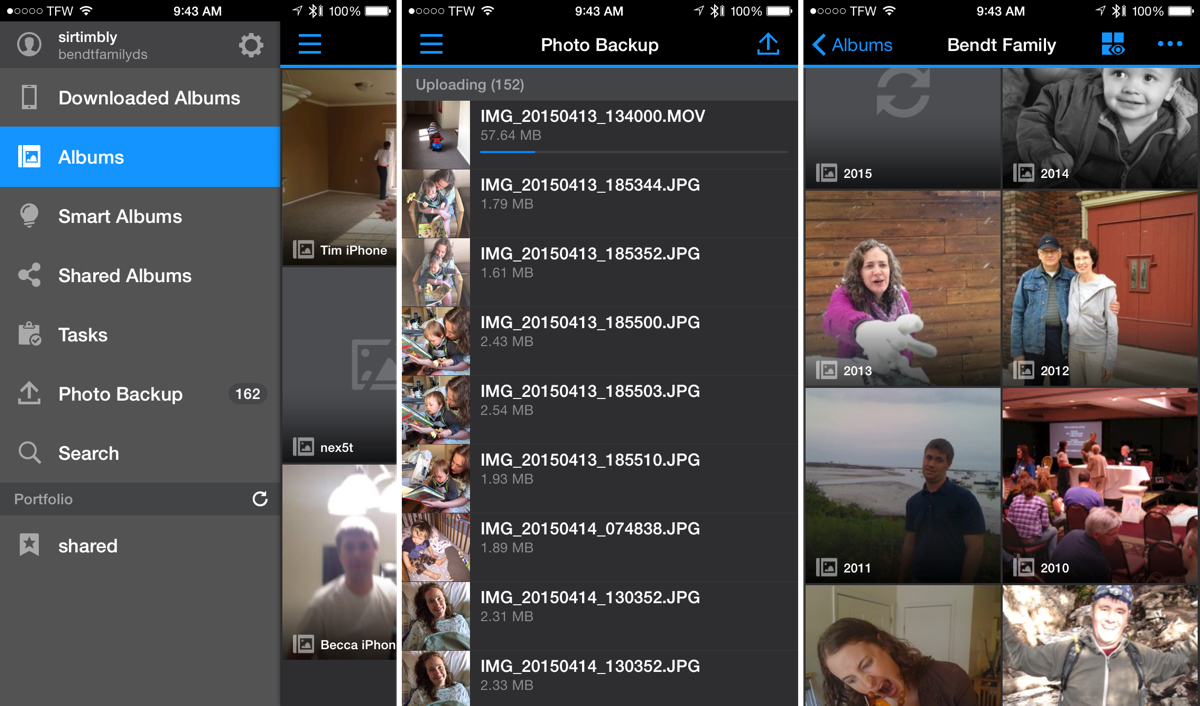 Unfortunately, it has the same problem that every photo backup app on iOS has, namely it only backs up your photos if you have opened the app recently. This is where Apple's iCloud Photos solutions really take the wind out of everyone else's sails.
Web Albums
Web albums are the primary purpose of the Photo Station software running on your Synology. The whole thing is a web application that indexes and presents a nice album view of all the folders of images you have. I think the fact that it uses folders as it's default organization structure is a really good choice. I don't like having everything in one massive opaque library file. Storing photos as files and folders is a metaphor I understand and has passed the test of time. I have my photos broken down by year and month folders. So all the most recent pictures are in the 2015/04 folder.
Permissions
If you have multiple people in your household with different collections of photos and all want access to it, you have lots of control with the Synology. Creating users and assigning them permissions is a straightforward task for the knowledgable home geeks.
You can have different users have different permissions (like viewing and uploading) per folder. You can also short-cut the whole thing and have everyone in your house use one primary user account for logging in just to simplify things.
Sharing
Sharing is where Photo Station sets itself apart. From the web interface it's easy to choose photos for shared albums. These shared albums can be protected with a simple password that you give to friends and family, or can be unprotected but hidden behind a long URL (this is the default option in the latest version). You can also just create plain old public albums listed for everyone in the public interface of your diskstation website if you are using your diskstation to host a public website.
The photostation software also has features that allow you to post photos or links to photos to sites including Facebook, Twitter, Flickr and Picasa.
They also allow you to set up a built-in public 'Photo Blog' a feature I haven't used because I prefer to post photos to my WordPress blog.
Synology has to make the web interface available to the internet in order to make this sharing funcationlity really work. The Disk Station software tries to walk you through setting up Dynamic DNS and firewall rules during initial installation. Exposing your NAS to the internet has some inherent risks.
Indexing and Conversion
When Photo Station analyzes all the photos in you photo/ directory, it will auto-rotate and generate a few thumbnails as well as indexing all the EXIF metadata. This makes searching by map and timeline and various tags possible from within the web interface.
In the Disk Station control panel you can have the software automatically convert all video files to mobile friendly formats.
Editing
I wouldn't say these are great ways to edit, but they have integrated the web-based Pixlr and Aviary photo editing services. These are actually quite powerful and don't require you to have special software installed on your personal computer. But, they do have some limitations in speed and funcationality compared to programs like photoshop or lightroom.
Tagging and Face Recognition
You can assign tags to photos one at a time or to a selection of multiple photos. There is no concept of stars or favorites in Photo Station, but you can add a tag you call "Favorite" or "5 Stars" in the interface if you wish to be that organized.
You can manually select faces in a photo and assign a name. The Disk Station will do it's best to identify faces based on the data you give it. This feature is still listed as experimental.
Conclusion
Web based software is unlikely to be as fast and easy as a natively built desktop app, but I think PhotoStation comes close. I like the fact that I have all my family photos on a cloud service that I control and own. And I love the fact that it's still integrated with a good Mobile App, even if the integration isn't as smooth as Apple's iCloud Photos. Uploading files to a NAS inside of your home network is going to be a lot quicker than getting photos up to iCloud. And the NAS should be set to back up it's files weekly to an offsite cloud location anyway. I set mine to go to Amazon Glacier on Sunday nights. Overall, I think the benefits outweight the problems.
I still have to finish my detailed description of how I get all my photos into the Synology disks from our two iPhones and our Sony Digital Camera. Look for that soon.